The Atrium
is a place in
W.I.T.s Academy
. There is a magic tree that grows throughout the entire school and controls magic of the realm it is where students receive their team challenges. The Tech Kiosk is located here where WITS and Guardians in training receive their class schedules and meetings on their phones.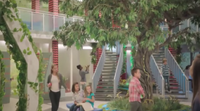 Teams
Arturo, Leslie, Bernie
Will, Maya, Tim
Vittoria, Ginny, Joseph
Shelly, Beau, Callum
Nickol, Roisin, Ash

The image gallery for The Atrium may be viewed here.
"Add More!"
This article is a stub. You can help the W.I.T.s Academy Wiki By expanding it.
Ad blocker interference detected!
Wikia is a free-to-use site that makes money from advertising. We have a modified experience for viewers using ad blockers

Wikia is not accessible if you've made further modifications. Remove the custom ad blocker rule(s) and the page will load as expected.